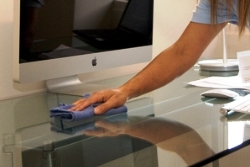 CC Cleaning provides professional cleaning services for commercial properties too, including offices, beauty salons, waiting rooms, retail shops and more.  We are able to keep the work environment clean and fresh for your employees and your clients benefit too!
Offices can become a very dirty environment in a short time.  With employees, computers/printers/office equipment, and other foot traffic and external influences that create dust and debris, these areas should be cleaned daily, or weekly at least.  Offices with waiting areas, visitor restrooms, and public entryways need to pay special attention to keeping these areas clean and presentable.
When CC Cleaning cleans your office area, we will:
Vacuum carpets & sweep and/or mop floors
Dust
Clean the employee lunch room/lounge area
Clean the waiting room
Clean the entry area
Clean restroom facilities
And other services as needed
Contact CC Cleaning today for additional information on all of our professional office cleaning services we provide for commercial and retail properties in the Fargo, ND and Moorhead, MN area!