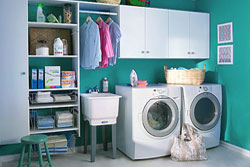 The laundry room is one area that is easily forgotten for a deep clean.  Lint, dust, dirt, soap scum and grime build up over time.  CC Cleaning can get your laundry room to be as clean as the rest of your house!  We use the laundry as a place typically known for making things clean, but those processes also create dirt and debris.
As most of you know, one of the biggest by products of the laundry room is dryer lint.  CC Cleaning doesn't clean dryer vents, but we can clean the floor and walls in the laundry room that may have dryer lint accumulated on them.
Other things to clean include the appliances, removing dust and soap scum from the outside and the inside.  If you have a laundry sink, we can ensure that it too is cleaned and sanitized for you.
Contact CC Cleaning today for additional information on all of our professional laundry room cleanup services we provide for home owners and rental properties in the Fargo, ND and Moorhead, MN area!