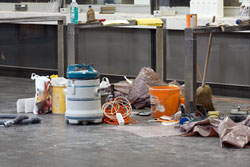 CC Cleaning provides cleanup services for construction projects.  New home construction cleanup services, remodeling project cleanup services, commercial construction cleanup services and other construction cleanup needs.  Whether a commercial or residential construction job, we can help you with the cleanup!
Construction cleaning can consist of many things.  Mostly it usually includes the sweeping up of sawdust and lumber remnants, vacuuming up of sheet rock dust, and filling up the commercial dumpsters with general construction debris and garbage.  Other things to clean up include random screws and nails, nuts and bolts and other construction products.
If you are the home buyer and have worked out sweat equity with your builder, hire us to help get the cleaning done properly and in a timely fashion to help keep the project on track.  If you are the builder or the sub-contractor in charge of the job site, consider hiring CC Cleaning to keep your project safe and clean for your construction crew!
Contact CC Cleaning today for additional information on all of our professional construction cleanup services we provide for home owners or home builders in the Fargo, ND and Moorhead, MN area!