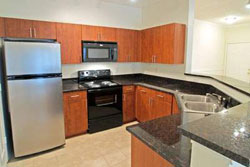 CC Cleaning will help you get your rent deposit back by providing the professional cleaning that is needed and looked at by rental property landlords and managers.  CC Cleaning has been professionally cleaning apartments in Fargo, ND and Moorhead, MN for over 10 years.  From kitchens to baths, living rooms to bedrooms,  we can turn your apartment from lived in to move in ready!
Even though most apartments are small, they still present a challenge to keep clean, just like any residence.  One thing most apartments lack is a lot of windows, for example, to allow for adequate fresh air flow.  That is why sometimes apartments can seem "stuffy" or "stale".  This is where we can help by utilizing the proper environmentally friendly cleaners to spruce up the place!
When CC Cleaning comes in to get your apartment ready for the next tenant, we will:
Vacuum carpets & sweep floors
Dust
Clean the refrigerator inside and out
Clean the oven and stove top
Clean blinds
Scrub bathtub and toilets
Contact CC Cleaning today for additional information on all of our professional apartment cleanup services we provide for rental properties in the Fargo, ND and Moorhead, MN area!